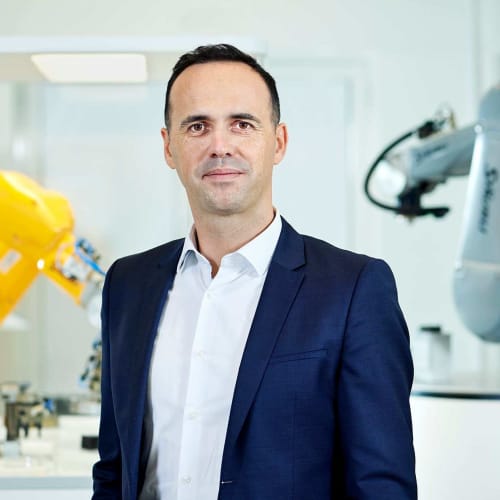 Christophe Coulongeat
Executive President Robotics Division - Stäubli
AM: You have been Executive President of the Robotics Division at Stäubli for just over a year, what have been the main highlights since you started in the role?
CC: It was an exceptional year in many ways: I was happy to recruit & build-up our Robotics Global Management Team, and we got the opportunity to finally meet altogether in person! Alongside this, we completed the formation of dedicated market teams supporting our growth ambitions in Food, Pharma, Medical Robotics and Photovoltaics. We hit record orders, net sales and manufacturing output, boosted amongst others by China's economic recovery. We were praised for our industrial design with the RedDot Award® for our TS2 range, which was a great achievement. It has not all been plain sailing; like many Stäubli suffered from the global chip and e-component crisis. Despite these on-going challenges, we are reinforcing our investments in R&D and manufacturing capabilities to double our manufacturing output by 2025.
AM: How would you assess the global robotics industry and its potential to keep growing?
CC: The robotics industry offers a world of possibilities as it is the cornerstone of the 4th and 5th industrial revolutions.
Robots are associated with cutting edge technologies (vision, machine learning, human collaboration, mobility and connectivity) all of which enable different industries to:
Reduce their carbon footprint with localized production
Increase energy efficiency with higher productivity & lower consumption
Improve quality of work life & safety by removing manual difficult tasks for operators
Develop their competitiveness - robots and automation are key enablers for developed countries to remain competitive & attractive
In the past, the Robotics Industry was primarily driven by the Automotive and Electronics industries respectively. Today, the Robotics industry continues to support these industries, but is also seeing massive growth and uptake in other areas such as: food, logistics, pharma, medical robotics & healthcare settings.
Our robots and technologies are continuously developing and evolving to support the changing needs of this wide variety of customers.
AM: What differentiates Stäubli Robotics in an increasingly competitive market?
AA: I see four main factors:
a) Our commitment to building lasting, long-term partnerships.
In 2022, the Stäubli group will celebrate 130 years since its establishment and Stäubli Robotics 40 years. Our group remains long-term oriented and fully focused on adding value to our customers and shareholders over the coming decades. Stäubli Robotics originates from the acquisition of Unimation's robots and the SCARAs from Bosch Rexroth combined with Stäubli's core mechatronics know-how. Today, this translates into having the industry-leading range of SCARA and 6-Axis robots with open architecture controllers and innovative software solutions.
I was happy to recruit & build-up our Robotics Global Management Team, and we got the opportunity to finally meet altogether in person!
At Stäubli, we value and are recognized for our customer collaboration: we achieve this by combining the end users' application know-how with our robotics expertise to deliver outstanding automation solutions. As prime example of this is the introduction of the world's first Stäubli Stericlean robot. Together with a leading pharmaceutical company, we developed something entirely new - a breakthrough in automation under aseptic conditions for the pharmaceutical industry.
We have built a worldwide partner network with leading manufacturers, systems integrators and end users to foster interdisciplinary dialogue among the industry value chain.
b) We have over 40 years of PASSION for Innovation:
Over the years, we have renewed the product range to answer the challenges of I4.0 – designing and producing robots that can operate in challenging industrial and sensitive environments. In 2018, we developed our POWER cobot with the ambition to offer the best compromise between Human-Machine collaboration and application Performance.
In 2017, we introduced HelMo Autonomous Mobile Robot concept, which combines the Robotics know-how with the motion and fleet management capabilities of the company WFT in Sulzbach-Rosenberg. In August 2018, WFT became part of our family as Stäubli – WFT. This collaboration enables us to benefit from their industry leading compact, precise & heavy-load carrying AGVs.
c) The Unmatched PERFORMANCE of our robots: recognized for their outstanding performance and reliability:
We focus on developing robots, options and features that enable our robots to operate in ever more demanding environments in sectors such as Food, Pharma, Medical Robotics, Photovoltaics, as well as Automotive & Metal industries. We make no compromises in our robots' performance, precision and reliability - in standard, harsh or sterile environments.
We provide best-in-class Total Cost of Ownership (TCO) throughout the lifecycle of our robots.
d) Our people are the driving engine of our growth and success:
We are selective, only hiring people who want to make an impact in a family driven business and willing to grow in a fast growing & demanding robotics market.
Our people, from CEO to intern, across all departments are customer-centric: our teams are recognized for their ability to connect, listen and collaborate with customers across disciplines. To achieve this, we internally focus on competence development to ensure that our teams have the core skills required for business success and the expertise within their target markets.
AM: Going forward, what are the key objectives and next areas of focus for Stäubli Robotics?
CC: We want to sustainably outperform the industrial robotics market and be recognised as the undisputed leader in Pharma, Food, Medical Robotics & Photovoltaics.
AM: The battle for top talent in robotics is intensifying – why should someone consider a career at Stäubli Robotics?
CC: It is indeed a very competitive landscape out there I see four main reasons to join us:
a) Robotics is an industry in which people can genuinely contribute to changing the world and enabling a better future for us all – we are right at the intersection between people, technology & industry.
b) We have boosted our R&D spend to further accelerate the pace of innovation: development possibilities are almost limitless for people who want to make a difference!
c) What makes us special and unique is the profile of Stäubli itself: an independent, longstanding, and ambitious family-owned pioneering company which likes to win and always go beyond!
d) We enable our people and offer amazing employee experience by developing our people, building market communities, collaborating together and developing long-term career paths.